Commercial 1.5 HP Semi Automatic Tire Changing Machine & Wheel Balancer Combo
Our tire changer is the perfect machine for you if you are looking for a high-quality professional tire changer for your garage or shop. It can make quick and easy tire changes without any hassle. This product is perfect for people who are looking for an automatic tire changer to make their work way easier and faster.
This has the latest hydraulic systems for quick work and 360° rotating arm with an overhead arm to reach tires. We also offer fast & free shipping so you can start your next job with your new tire machine today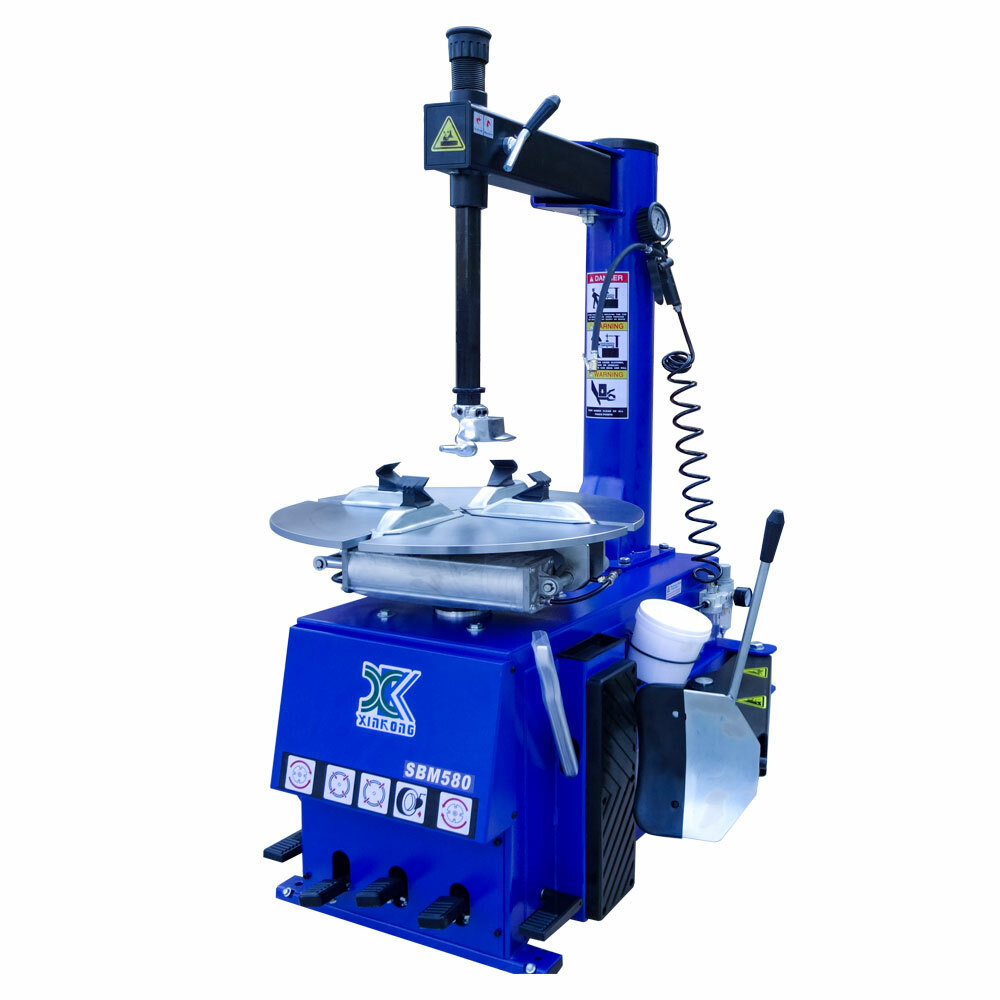 You'll also get a wheel balancer machine and tools with your semi-automatic tire changer machine and all of this comes with a 12-Months warranty on all metal parts, pneumatic parts, electrical parts and motors! Most of the sellers don't provide or only provide warranty for those parts for 3 or 6 months, 1 year at most. Please compare with others before you make the decision. Get into our shop and you will see the details of terms and conditions, especially the best warranty
This will be safely packed & shipped within 3 days from our california warehouse and the average delivery time is around 10-15 days because it's a heavy weight item the delivery time is that long.
SPECIFICATIONS (580  SEMI AUTOMATIC TIRE CHANGER)
Rim clamping outside :  10"-18"
Rim clamping inside : 12"-21"
Motor Horsepower : 1.5 HP Strong Motor
- xinkong use quality motors as good as Brand Tire changer machines. 
- The bird head is designed with protector and claws are lifetime warranty
Maximum Tire Diameter :  37" (960mm)
Maximum wheel Width : 12"
Bead Break force :  5600 lbs. pneumatic piston
Operating pressure : 120-145 psi (8-10 bar)
Voltage :  110V only
Includes 4 clamp protectors and Steel mount head(shown in picture)
Shipping Weight : 500 lbs
Color : Blue Powder Finish
SPECIFICATIONS (Wheel Balancer 680)
Self includes: hardware hanging kits on the side of the device.
Preset to American standard measurements
Rim diameter: 10" - 24"
Rim width: 1.5" - 20"
Max. wheel diameter: 44"(1117mm)
Max. wheel weight: 155 lb
cycle time: 4-7 seconds
Balancing accuracy: -1g to +1g
Noise: <70 dB
Power supply: 110/220V, 50/60HZ
Max. Power: 180-250W
Color : Blue Powder Coat Finish
Preset to American Standard Measurements
Standard Dynamic Mode, Static Mode, ALU 1-3 Mode, Motorcycle Mode
Includes 4 centering cones
Includes Quick Release Wing Nut
Includes all accessories (shown in the pictures) 
This doesn't include the motorcycle adapter shows in the picture
Rim clamping outside 6"-15"
Rim clamping inside  8"-17"
NOTE : 
Product weights 700lbs in total

*Buyer must have unload equipment (i.e. forklift) available at delivery location, or you may pick up at local terminal. If buyer is not capable of unloading, we will cancel the order.*  
**We ship to your confirmed address only.You are responsible for any re-delivery charges and storage charges.  If you provide a business name, we assume you are open 8AM-5PM and can take delivery during those hours.  We are not responsible for re-delivery charges if you misrepresent being an actual business.  Any business conducted from your residence is not consider a commercial business and will be treated as a residential delivery**

Shipping on this item is FREE to the 48 states.Free shipping does not apply to Alaska, Hawaii, Puerto Rico, Guam, Virgin Islands, APO/FPO or outside the USA.
SHIPPING INFORMATION

-Shipping Time: Your semi automatic tire changer will be packed and shipped within 1-3 days of ordering and will be delivered to you within 7-12 days after the shipment.
- For all queriers please Call (209) 441-6811 or Email support@generu.co

- Free shipping for all orders no matter how many items you purchase.
- You can return your product up to 30 days after receiving your order. Please make sure that the products are not used or damaged and in the original box.
 


PAYMENT & SECURITY

PAYMENT METHODS


Your payment information is processed securely. We do not store credit card details nor have access to your credit card information. We use encrypted SSL security to ensure that your credit card information is 100% protected.

SECURITY